DENA

- Digital Epilepsy Emergency Card

DENA is the Digital Epilepsy Emergency Card of neuraxFoundation gGmbH and Landesverband Hessen e. V. of the German epilepsy association. The complimentary card serves as a non-official identification document for people with epilepsy.

By using the card people who provide first aid in an emergency situation are able to correctly classify symptoms during an epileptic seizure and take required measures. Medical personnel can view important information about epilepsy and other diseases via DENA.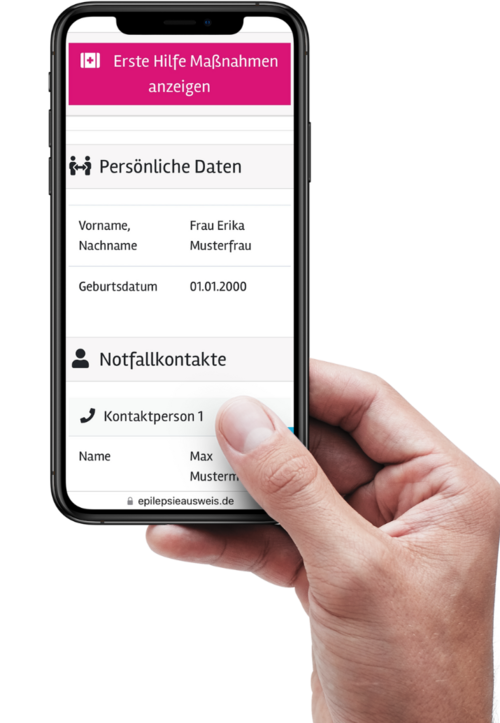 Digitalization
DENA offers more space for information. You enter your data online. Also, you don't need a new card when you update your data.
Feel safe
First aid instruction helps first responders to remain calm and respond adequate even under stress.
Contact physicians
You can list your general practitioner/pediatrician and a specialist who can be contacted through DENA if needed.
Language selection
The DENA website can be shown in German and English.
Full control
You can update your information online at any time, from anywhere.
Carrying options
You can carry DENA visibly around your neck, discreetly in your wallet, or as a QR sticker on your mobile phone or mediacal insurance card.
Three contact persons
To ensure that someone can be reached in case of an emergency, you can add up to three contact persons.
Password protected access
Your account is password protected. Outsiders can view your data by scanning the QR Code, but not change them.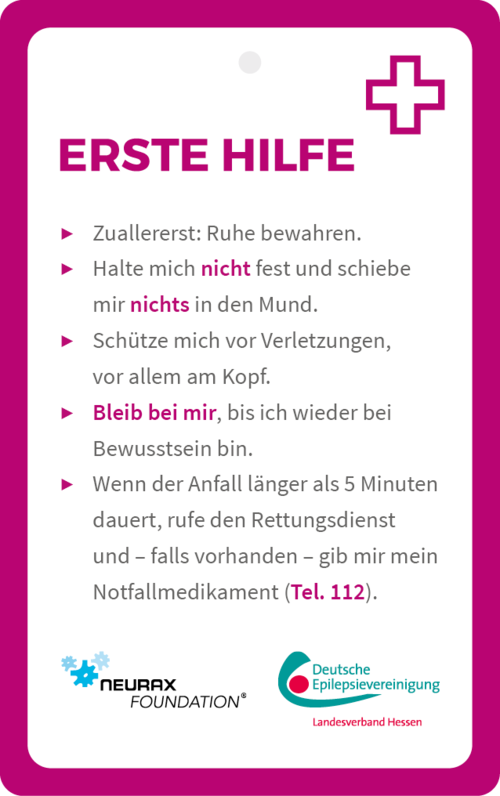 Scan the QR code on your card and complete the registration to activate DENA.

During an epileptic seizure, people will notice and scan the QR code on your card or sticker.

First responders can access your most important information directly - and easily. There is no need for a log in or a downloaded app.

DENA is also helpful for physicians, since you store important information about medication, other diseases and allergies.
What is the need for an epilepsy card?
An epilepsy card is not an official document. It helps outsiders to correctly classify the symptoms of people with epilepsy during a seizure. With the information on the card, first responders can take appropriate action if the person is unresponsive.
What does DENA cost?
DENA is completely free of charge. There are no fees for registration.
How do I get to the DENA website?
To access the DENA site you can either scan your QR code or manually enter www.epilepsieausweis.de into your web browser. When registering for the first time, you must access via the QR code. After you have created a password and verified your e-mail address, you can log in at any time via the browser.
How to update my data?
To update your data, you need to log in to your DENA account. To do so, scan the QR code. Once you are logged in, you can edit all your data under "personal data" and "medical data".
How can I change the number of my contacts?
To do so, log in to DENA and click on "personal data". Here you can add another person with the button "Add contact person" and remove an already stored person by clicking on "Delete contact person". You have to enter at least one and can enter a maximum of three persons.
How to reset my password?
Go to the DENA login page (www.epilepsieausweis.de) or scan the QR code of your DENA card to get to the log in page. There you can click on "Forgot password" to generate a new password. A link will be sent to your e-mail.
How to get DENA?
The Digital Epilepsy Emergency Card can be obtained by people with diagnosed epilepsy from specialists who participate in the program. Feel free to ask your doctor about it. The cards are provided free of charge.
Card lost. What to do?
If you lose your DENA card, you should deactivate your account immediately to prevent misuse of your data. To do so, log in (www.epilepsieausweis.de) and click on the red button. Confirm that you want to deactivate DENA. If your old card is lost or damaged, you can apply for a new one.
How do I activate my DENA card?
Your digital epilepsy emergency card will only be activated after all mandatory fields have been filled in and the entries have been saved by clicking "Save data". Only then your stored information will be visible to other people via the QR code.
How to use DENA in case of emergency?
Open a QR scanner app on your smartphone (or a cell phone that already has a scanner built into the camera), scan the QR code and click on the link that appears. The link leads first responders to your data without a password request.
Do I need to get consent from the person I list as an emergency contact?
Before you enter a person as an emergency contact in DENA, you have to get their explicit consent, as their name and phone number can be viewed by anyone who scans the QR code.
How to delete my account?
After you log in, you can easily delete your account. Click on the red box next to the logout button. You will be asked if you want to delete your account permanently. By conforming this, your data will be permanently removed from our server.